Assault RiflesEdit

The M16 is a 3 round burst gun that is effective at mid to long range.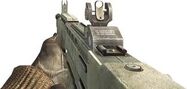 The Enfield, what can i say about the Enfield...
The M14 is a single shot gun, it damage is not the best
Some people say the Famas is over powered, who know's?
Straight up Assult gun. Damage is good and the first gun i got gold...
The gun of many name's...AUG as in the lettles or read it as spelt.
Another single shot burst but this time faster and more powerful.
AK47, the classic Terrorist gun.
The all-rounder.
Same as the M16 but Classified